Saran Holding, which is active in energy, media, defense, health and broadcasting, will invest $1 billion in Turkey by 2014 together with its partner, Fersa Energias Renovables, a Spanish clean-energy company.
Fersa and Saran set up FerSar Enerji to build a plant with 350 megawatts of renewable power capacity in Turkey, said Sadettin Saran, chairman of  Saran Holding.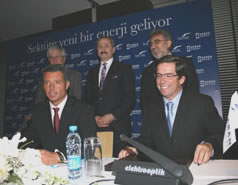 "Rather than complaining about the crisis in 2009, we sped up investments," said Saran. "We will invest $1 billion in energy with our Spanish partner by 2014. We are also ambitious in mining."
Noting that the group managed to attain 30 percent growth despite the turmoil, Saran said: "We entered the mining sector a short while ago. We extract chrome in [the Black Sea province of] Kastamonu and we would also like to extract metals such as magnesium and gold. We have received foreign partnership proposals in mining but we're focusing on chrome at the moment. We don't have any market problems. We will export chrome to China after raising its tenor rate. Turkey has potential in any field."
Foreigners have prepared very positive reports on the Turkish economy, he said. "We have a good story to tell foreigners. We set up FerSar Enerji through a 50-50 partnership with Fersa, one of Spain's top seven groups. We will invest $1 billion in energy by 2014. The talks with Fersa took one-and-a-half-years. I visited Spain many times for the deal. We will make the first dig in March for a hydroelectric power plant in Mersin. We are also getting bargains on other licenses."
Saran Holding's turnover has surpassed $100 million. "We have not stopped because of the crisis. Via www.tuttur.com, we will obtain a share from the ever-growing lottery pie currently worth around 650 million Turkish Liras. We lead FerSar and will invest 350 megawatts, including 100 megawatts in hydroelectric power, 200 megawatts in wind energy and a minimum of 50 megawatts in solar energy," he said.
Turkey is delayed in utilizing this renewable energy potential, according to Saran. His holding aspires to be one of the groups activating this potential, he said. "The 350 megawatt investment we will undertake by 2014 will be 2 million euros. We reached an agreement a while ago to obtain a 60 megawatt wind energy license, but have not been involved in the official deal signing yet."
The group with whom Saran reached the agreement was delayed for years due to legal procedures, Saran said. "The energy minister has given hope that there won't be any more problems. There are very good zones for wind energy. We have a team monitoring licenses in Ankara."
Saran also said he began his career 20 years ago in the defense and media sectors but that he is now involved in seven different industries.