Turkish manufacturer of solar collectors, Solimpeks Solar Energy Corp., opens first foreign office in Munich
Zeil: "Further proof of Bavaria's undiminished appeal as a top high-technology location for innovative companies from all over the world"
MUNICH Solimpeks Solar Energy Corp., the leading Turkish manufacturer of solar collectors, has opened its first foreign branch office in Munich. Bavaria's Minister of Economic Affairs, Martin Zeil, welcomes the decision: "This is a particularly pleasing signal shortly before the opening of the Bavarian Representation in Istanbul. The recruitment of Solimpeks also underscores the top-class framework conditions in Bavaria. A highly qualified labour force, an excellent research network and high purchasing power continue to be convincing arguments for innovative companies from all over the world."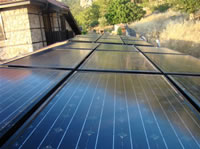 Initially Solimpeks plans to create five new jobs in the sales division. In the longer term, the Turkish company intends to also invest in research and development in the state capital. The fact that the choice fell on Bavaria was due not only to close ties with component suppliers from Bavaria. "We opted for Bavaria because Bavaria and Baden-Württemberg make up nearly half of the German market for solar thermal systems. We were also convinced by Bavaria's favourable strategic location for the solar sector: It is very easy to reach Italy, Austria and Switzerland from here", explained Joseph Hoek, member of the Executive Board of Solimpeks. In future the company plans to set up a new centre in Munich for developing hybrid solar modules. This technology combines the production of electricity and thermal energy.
With its registered office in Munich, Solimpeks Solar GmbH is the first foreign branch office of the Turkish company. Solimpeks celebrated its 30th anniversary last year and has more than 300 employees in total. The company headquarters are based in Konya, about 300 kilometres to the south of Ankara. Solimpeks offers more than 100 solutions for the use of solar energy, ranging from boilers and solar thermal collectors to photovoltaic modules. The company currently exports its products to 60 countries.
Turkey is one of Bavaria's 20 most important trading partners worldwide, ahead of countries like India, Canada or Brazil. In 2008, the volume of trade came to nearly euro 4 billion. Bavaria is further expanding its good business relations with Turkey: On 18 March 2010, the Bavarian Minister of Economic Affairs, Martin Zeil, will be opening a new Bavarian representative office in Istanbul. The State currently has 20 foreign representations round the world, which help Bavarian exporters to open up markets and inform foreign companies about the benefits of having a branch office in Bavaria.